BEACH DAISY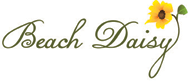 Business Category: Women's Clothing & Accesories

Summer Hours: Monday - Wednesday, 10:00am - 8:00pm, Thursday - Saturday, 10:00am - 9:00pm, Sunday 12 - 8:00pm.

Phone: 239.394.0169

Fax: 239.394.0170

Email: derekleeann@me.com

A boutique featuring effortless lifestyle clothing in natural fibers such as linen, rayon, cotton, gauze. Woman and girls items with plus sizes in some lines.

We carry many lines made in USA. Featuring Luna Luz, XCVI, Spirit, Before and Again, Subtle Luxury, Dunes gauze, Maruska handprints, Sympli from Canada, Haiku sweaters, Yummie Tummies, Lisse Leggings, Juno Shoe girl, handbags, scarves, belts, hats, accessories.
We carry Pearls, crystal, semi-precious stones jewelry and love heals charms and necklaces. Also featuring Mayan Creations jewelry with magnetic clasps.

Effortless lifestyle clothing!